I'm still exploring different possibilities of 3 axis motion control devices. This time again I used Syrp equipement which I got from Syrp Poland distributor – Foto7. Vertical shots are always challenging. Most sliders are designed to work only horizontal or at a slight angle. Of course it depends on the weight of your setup.
Syrp can work horizontal without problems with lighter setups. For heavier ones there is an option to add counterwight. It's really simple – a hole in the carriege and a pulley in the slider and caps. Even the additional rope is in the box 😉 Check out the shot and then read my explanation below!
Previously I tried just a camera on the Genie to see how it works horizontal. It was OK, I had no problems with motion controlled vertical slides, however the 3 axis setup is much heavier. Finally I used Genie+ 2x Genie Mini for 3 axis motion control, a GH4 with Sigma 10-20mm and a Manfrotto 502AH head to level the minis. It would be much better to use lighter head, but this was the only head I have with 3/8″ thread (I've got a smaller head, but with just 1/4″ thread, and I can't attach it to the Genie). The whole setup weighs about 5 kg (11 lbs). Finally I used a counterweight of about 6kg. With the counterweight of 4kg and less the Genie works in continuous drive both up and down, however I noticed it's harder to realize shoot-move-shoot shot (when the camera goes up, which was my planned movement for this shot). If you're making up to down shot it's much easier for the motor.
In the picture below you can check out the chart I made during the shot 🙂 I can't draw, but I wanted to make a shot with my whiteboard, so I decided to just write something, that's always useful for timelapsers. It's a simplified chart from my Should you use ND filters? Motion Blur in Timelapse tutorial.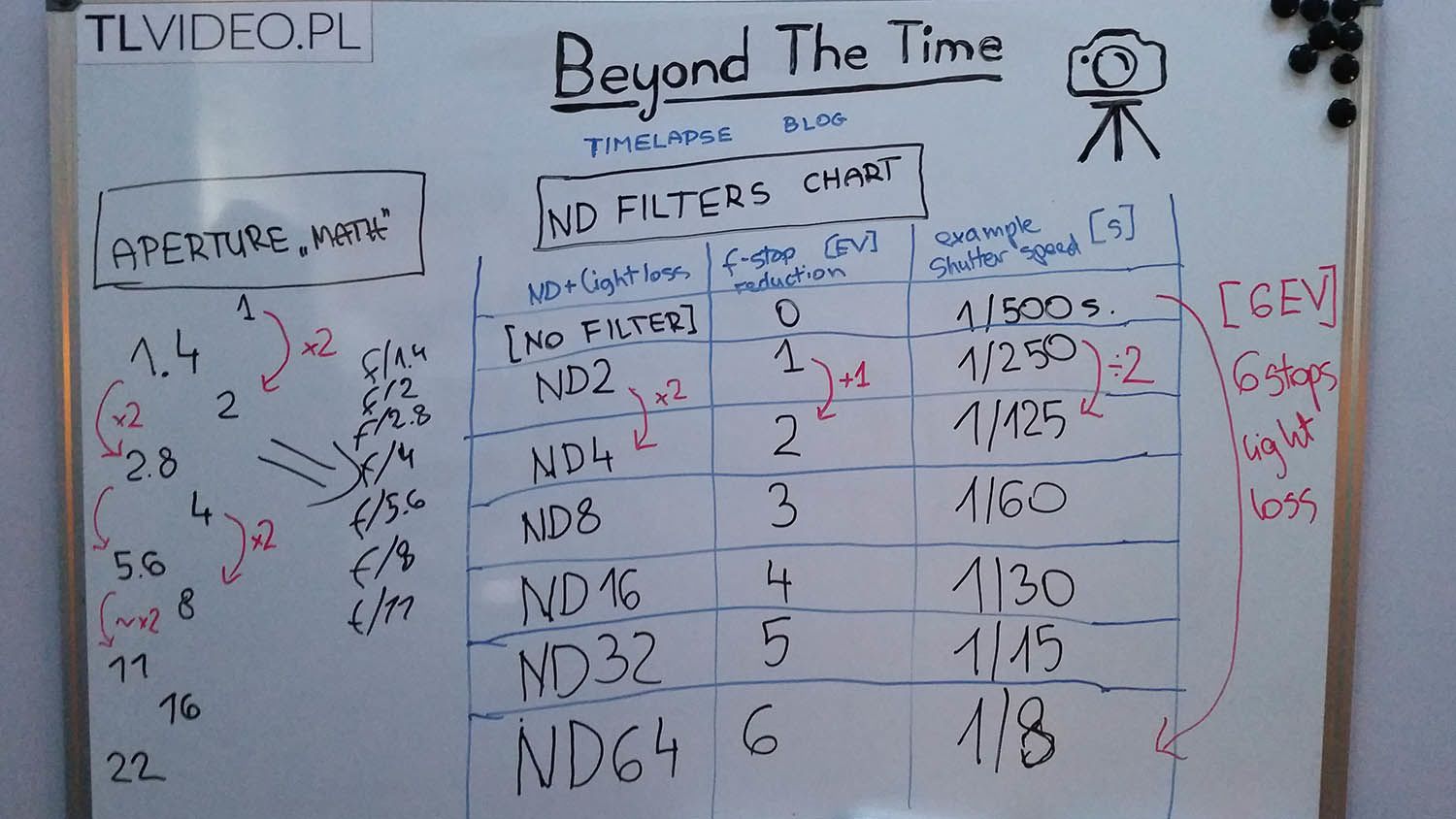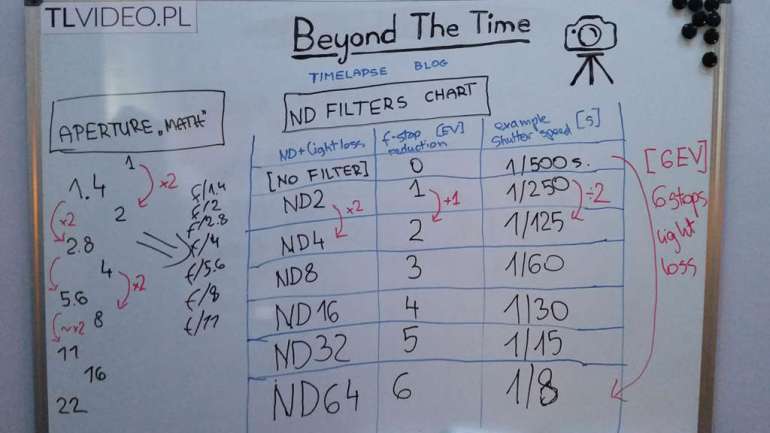 For this shot I didn't use any ND filters 😉 It was quite dark, so I could use long shutter speed without the filter. The camera settings were as follows:
Interval 3″
Shutter speed 1″
Aperture f/5.6
ISO 200
I really like the vertical shots and for sure I will use it more often, hopefully also outdoors. My previous slider wasn't able to do such shots 😉 Do you have any vertical timelapse shots? Share that in my Facebook group: http://facebook.com/groups/timelapse.hyperlapse. Also, don't forget to hit the little red ring in the bottom left corner to get notifications every time I share new timelapse related content 🙂 See you next week!